Art & Design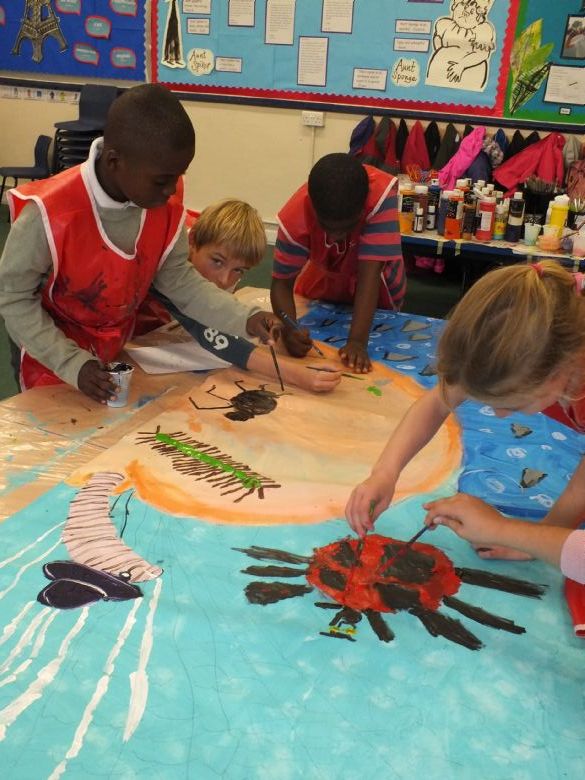 At St Margaret's Lee, our art & design learning is built around a common whole-school theme and a greater emphasis is put on the process, rather than just the outcomes. The themes for each term are listed below:
Autumn: Collage & texture, Pattern & Culture
Spring: Colour, 3D Form
Summer: Printing, Drawing
Not only does this ensure that children across the school get experience of working with a range of media, it allows us to see the progression in skills throughout the school. Teachers are also encouraged to explore other art forms and make creative links with other subject areas. Children get regular opportunities to draw throughout the year. We use sketchbooks from Y1-6 and these are a bit like a diary of children's art learning.
Below is a summary of the types of media we plan to use for each theme. You can also view/download the work of artists that we use as inspiration along with the excellent teaching guidance for each area developed by Mr Demeger.
Year 1 & 2
Collage & texture Paper weaving, material weaving
Pattern & Culture
Colour
3D Form dough, plasticene, clay, paper, straws, card, papier-mâché, mod roc, soap, pipe cleaners, junk materials, etc
Printing Paint, ink, natural materials, objects, printing on paper, card, fabric etc, experiment with different printing inks and paints e.g. acrylic, watercolour, poster paint mixed with PVA
Drawing pencil, crayon, pen
Year 3 & 4
Collage & texture Cross stitching, friendship bracelets
Pattern & Culture
Colour
3D Form wire, clay, paper, straws, card, papier-mâché, mod roc, soap, pipe cleaners, plaster gauze, junk materials, etc
Printing foam sheets, rollers, printing on paper, card, fabric etc, experiment with different printing inks and paints e.g. acrylic, watercolour, poster paint mixed with PVA
Drawing pencil, crayon, chalk, pen, brushes, chalk, charcoal, artist pencils (H&B),
Year 5 & 6
Collage & texture Tie dye, Batik
Pattern & Culture
Colour
3D Form wood, origami, clay, paper, straws, card, papier-mâché, mod roc, soap, pipe cleaners, plaster gauze, junk materials, etc
Printing Linocut printing tools, stenciling tools, Printing on paper, card, fabric etc, experiment with different printing inks and paints e.g. acrylic, watercolour, poster paint mixed with PVA
Drawing pencil, crayon, chalk, pen, brushes, chalk, charcoal, artist pencils (H&B), artist pens, 3D wooden figurines