Art & Design
By the time children reach the end of their journey with us, we want them to have gained a wealth of experience of art and design techniques with a wide range of materials, including powder paint, acrylic paint, charcoal, oil and chalk pastels, wire, modroc, clay, canvas, textiles, digital art and lino printing. We also want them to talk confidently about their learning and the work of artists and designers that they have studied.
Our curriculum is not taken 'off the shelf' by teachers. We take inspiration from a variety of high quality organisations, including The National Society for Art and Design and Accessart, both of which we are members.
Some of our art topics work as companion projects to the concurrent history or geography topic. For example, the Ammonite unit is taught alongside Rocks, Relics and Rumbles. This helps to provides children with context and make links between subjects.
There are many inspirational artists, craft makers and designers within our art and design curriculum. These include some very well known artists as well as lesser known contemporary figures. They are also not the same each year, as we aim to use visits to gallery exhibitions as a stimulus for inspiration!
At each stage of the artistic process, children are encouraged to experiment, explore and be creative! From KS2, children keep a record of their work in sketchbooks and final pieces may find their way onto the mantelpiece at home, in their diamond work folder or up on the wall somewhere around the school!
Below is an overview of what is taught and when ...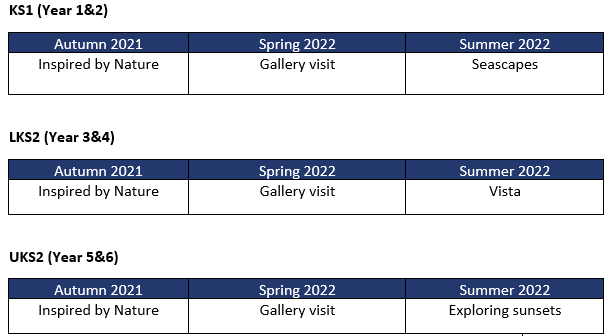 If you want to see our art & design curriculum in action across the school, click on the link below.

Art & Design