Art & Design
Our art & design curriculum is evolving. This year we have a whole school topic during the autumn term - Inspired by nature. During this unit of study, there will be a focus on colour mixing and painting techniques as well as opportunities to develop drawing and sculpture skills. We will also be planning an art gallery visit in the spring term. Be sure to view the blog (see below) to see where our curriculum journey takes us!
Within our curriculum, children are given time to use the artistic vocabulary they have learned. This may be in oral tasks such as explaining what a word means or demonstrating an art technique.
Some of our art topics work as companion projects to the concurrent history or geography topic. For example, the Ammonite unit is taught alongside Rocks, Relics and Rumbles. This helps to provides children with context and make links between subjects.
There are many inspirational artists, craft makers and designers within our art and design curriculum. These include some very well known artists as well as lesser known contemporary figures.
At each stage of the artistic process, children are encouraged to experiment, explore and be creative! From KS2, children keep a record of their work in sketchbooks and final pieces may find their way into their diamond work folder.
Below is an overview of what is taught and when ...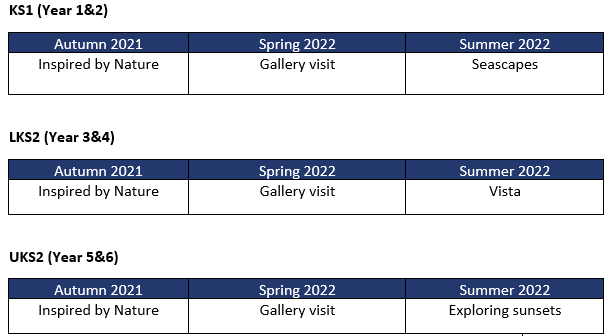 Art & Design