EYFS
What is the Early Years Foundation Stage (EYFS)?
At St Margaret's Lee, this refers to Reception. We follow the statutory Early Years Foundation Stage Framework.
It sets out:
The legal welfare requirements that everyone registered to look after children must follow to keep your child safe and promote their welfare
The 7 areas of learning and development which guide professionals' engagement with your child's play and activities as they learn new skills and knowledge
Assessments that will tell you about your child's progress through the EYFS
Expected levels that your child should reach at age 5, usually the end of the reception year; these expectations are called the "Early Learning Goals (ELGs)"
There is also guidance for the professionals supporting your child on planning the learning activities, and observing and assessing what and how your child is learning and developing.
How will my child be learning?
The EYFS Framework explains how and what your child will be learning to support their healthy development. Your child will be learning skills, acquiring new knowledge and demonstrating their understanding through 7 areas of learning and development.
Children should mostly develop the 3 prime areas first. These are:
Communication and language;
Physical development; and
Personal, social and emotional development.
These prime areas are those most essential for your child's healthy development and future learning. As children grow, the prime areas will help them to develop skills in 4 specific areas. These are:
Literacy;
Mathematics;
Understanding the world; and
Expressive arts and design.
These 7 areas are used to plan your child's learning and activities. The professionals teaching and supporting your child will make sure that the activities are suited to your child's needs. This is a little bit like a curriculum in primary and secondary schools, but it's suitable for very young children, and it's designed to be really flexible so that staff can follow your child's unique needs and interests. Children in the EYFS learn by playing and exploring, being active, and through creative and critical thinking which takes place both indoors and outside.
The diagram below gives examples of the areas of learning and development and shows the links between the way in which your child learns and what they learn.
Image courtesy of foundationyears.org.uk
As a parent or carer, how can I help with my child's learning?
All the fun activities that you do with your child at home are important in supporting their learning and development, and have a really long lasting effect on your child's learning as they progress through school. If you make the time every day to do some of the following things with your child it will make a real difference to your child's confidence as a young learner.
Image courtesy of foundationyears.org.uk
How can I find out how my child is getting on?
The best way is to speak to your child's teacher. This may be:
a quick chat at pick-up
during the scheduled parent meetings in the autumn and spring terms
through a scheduled meeting or phone call with the teacher. This can be requested via the school office (info@stmargaretslee.lewisham.sch.uk)
Is there homework in the EYFS?
Each week, the teachers provide parents and carers with ideas of things that could be done at home to support their child's development. These ideas reflect learning in school: learn by playing and exploring, being active, and through creative and critical thinking
We are using a secure and private learning platform called Seesaw. This allows parents and carers to share learning with the teacher digitally and can include photos, videos, audio recordings and pictures.
Children also take home books to read - some linked to the phonics programme and some to read together with a parent or carer. Getting into the habit of spending time each day with a book is so important.
Where can I find out more about the EYFS curriculum?
The document below, Development Matters, provides a comprehensive outline of the EYFS curriculum.
How do children learn to read and write in the EYFS?
Children are provided with many experiences that encourage and nurture the use of language. However, we do follow a structured phonics scheme called Read, Write Inc. This begins in the summer term of Pre-school and is used all throughout Reception and beyond. To find out more about Read, Write, Inc., click here.
We also use a writing scheme called Talk 4 Writing, that is used throughout the school. Within the EYFS, this generally involves learning to retell some classic stories with the use of actions and character voices! We often perform these retellings to parents and carers. Retelling stories also helps the children come up with ideas for writing their own creations. To find out more about Talk 4 Writing, click here.
How do children learn mathematics in the EYFS?
We use the White Rose EYFS mathematics scheme as the basis of our curriculum. Although we use the scheme flexibly, the long term plan below helps to provide structure and ensure all children are ready for Year 1 by the end of the summer.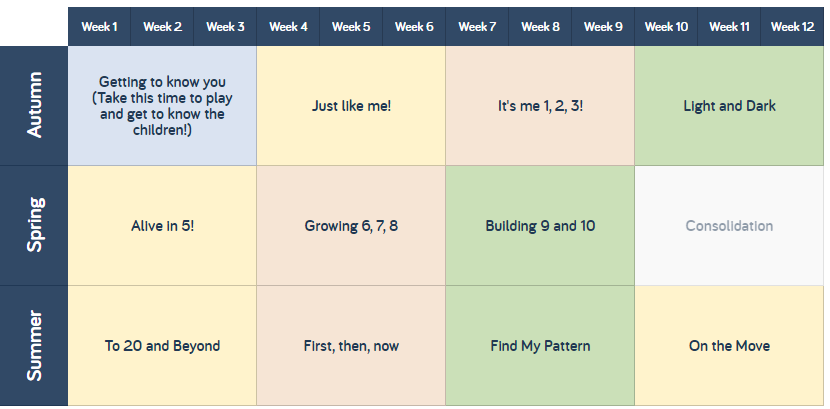 Maths carpet sessions with the whole class usually last about 15-20 minutes. During this time, children have opportunities to review what they are learning in a variety of ways, using a range of 'manipulatives' (objects), images, songs, rhymes and stories. This is to ensure they develop a deep understanding of number concepts.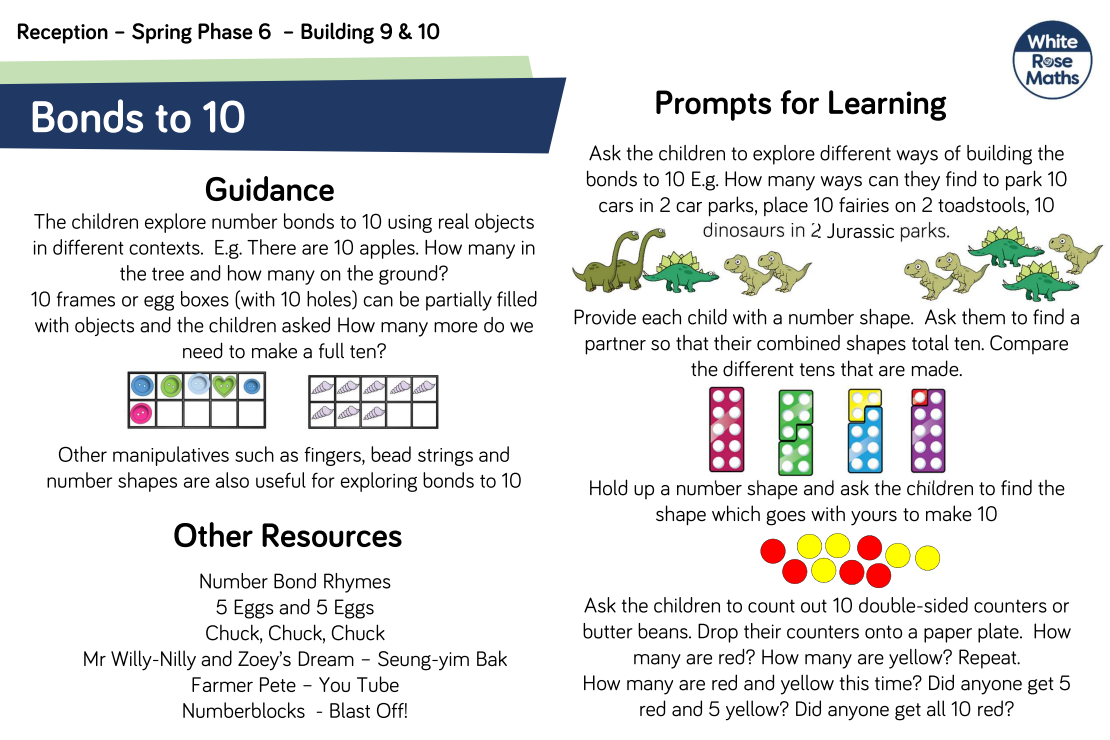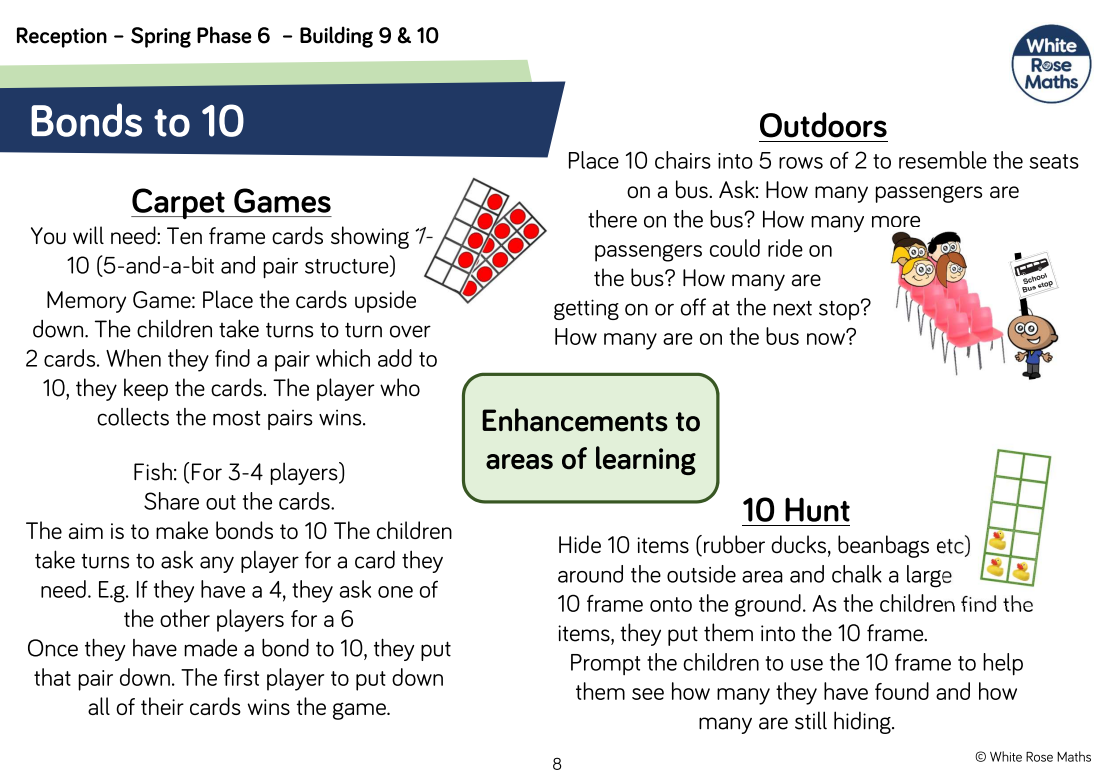 Example of planning guidance (courtesy of White Rose)
However, the maths doesn't end on the carpet! There are lots of opportunities for children to develop their understanding through games and activities set up by the teaching staff. Often these games will initially be modelled and played with an adult and once children become familiar with them, they can play independently.
Mr Tobi also supports Reception each day with 'active maths', during which time he will take a small group and reinforce maths concepts through more physical games, often played outside. e.g. counting star jumps, measuring beanbag throws or counting ball passes!
What about the wider curriculum in the EYFS?
The EYFS wider curriculum has 'Early Learning Goals' that form the building blocks for school subjects in Year 1 and beyond as illustrated below: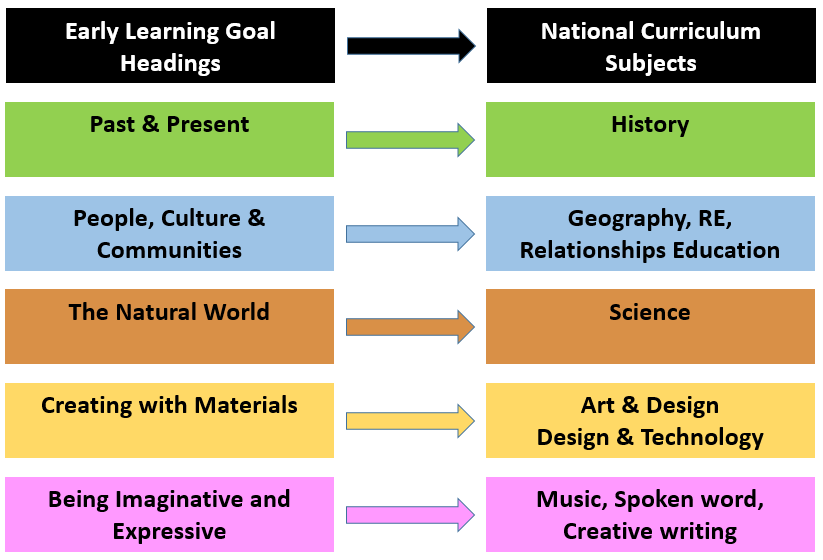 Teaching staff in the EYFS help children achieve the early learning goals by providing a wide variety of experiences throughout the year.

EYFS