Admissions
Prospective parents - we hope you find the video informative. In the event that you have further questions that the video guide does not answer, these can be sent via the contact us page on the school website.
We are planning to host open mornings on the following dates:
Tuesday 5th October 9:35-10:30am
Wed 3rd November 9:35-10:30am
Fri 3rd December 9:35-10:30am
These are a chance for you to meet the Headteacher, see the school in action and ask any questions. To book a place on one of these, please use the link below:
Pre-school Admissions (age 3-4)
We still have spaces in pre-school for this academic year. Please contact the school for more details.
Information regarding pre-school for next academic year will be shared later in the year.
Pre-school - Key Information
Our pre-school follows the ethos, values and policies of St Margaret's lee School. The children are taught by a fully qualified class teacher and nursery nurse.
Pre-school follows the same calendar as the school, although some days are taken up for home visits and start dates in September are staggered. Full details of the nursery calendar is shared at the welcome meeting.
Children who do not qualify for 30 hour provision can attend full time using our 'top up' option. (see below for details)
Children attending full time bring a packed lunch
Parents/carers must commit to either 15 hour funding or 30 hour funding e.g. the school cannot share the funding with another provider
Children attending for 15 hours do so 8:55am-11:55am Monday to Friday.
Children attending 30 hours do so 8:55am-3:25pm Monday to Thursday and 8:55am - 12:55pm on Friday.
If you are interested in a place at our Pre-school, please contact the school as we may have vacancies. Children can start attending in the term following their third birthday. We offer 15 hour places (with the option of paid 'top-up' so children can attend a full school day) and we also offer 30 hours for children who are eligible.
Please click on the link below for guidance on eligiblity for the 30 hour offer. You can also read/download the 30 hour Frequently Asked Questions below.
https://childcare-support.tax.service.gov.uk/par/app/applynow
Reception Admissions - previous year guide
Use the table below as a guide to offered places in previous years.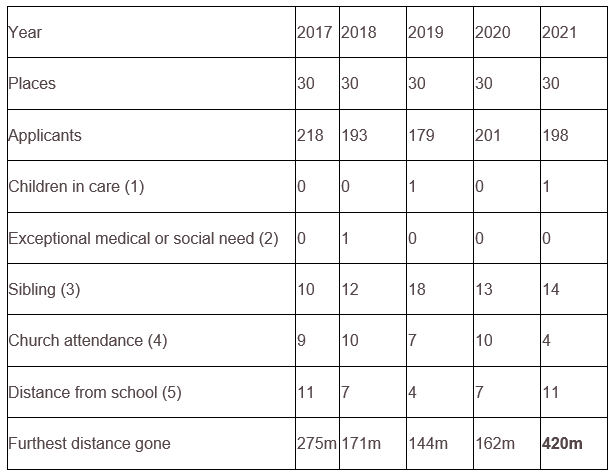 Please note that we often go further than the distances stated as sometimes offered places are not taken up e.g. a family moves out of the area in the summer holidays. It is very common for places to available in September/October. If you wish to go onto our waiting list, you should contact Lewisham and complete and in-year form - https://www.lewisham.gov.uk/myservices/education/schools/school-admission/Pages/transferring-to-a-different-school.aspx for more information.
Reception Admissions for September 2022
Please view or download our Admissions Policy 2022 at the foot of the page. Note that parents and carers only need to complete a Supplementary Information Form if they are applying for a church place (criterion 4).
In-year Admissions
If you are applying for a school place within the school year, please visit https://www.lewisham.gov.uk/myservices/education/schools/school-admission/Pages/transferring-to-a-different-school.aspx for more information.