Admissions
Prospective parents - we hope you find the video informative. In the event that you have further questions that the video guide does not answer, these can be sent via the contact us page on the school website.
Open morning visits:
Our open morning visits consist of a short talk from the Headteacher, followed by a tour of the school led by our Year 6 students. The talk is about 10-15 minutes and the tour takes between 20-40 minutes, although you can leave early if you need to get away!
Friday 24th November 9:30am - fully booked
Friday 12th January 9.30am - fully booked
New informal short Open Mornings added. There will be a 10-15 minute talk followed by a quick school tour by the headteacher. The morning will last around 30 mins.
Tuesday 9th January 9.30am
Thursday 11th January 9.30am
Please ring the school on 020 8852 3151 to book a place.
Please note that the deadline for Reception admissions is 15th January and this is done via www.eadmissions.org.uk. Please note that if you are applying for a church place (criterion 4), the supplementary form should be completed by the vicar/priest and sent directly to the school.
Pre-school Admissions (age 3-4)
Our pre-school site is being managed and run by Manor House Daycare. For information regarding admissions, as well as any general queries, please contact Manor House Daycare directly:
email: info@manorhousedaycare.com
website: www.manorhousedaycare.com
office: 020 8852 3506
Reception Admissions - previous year guide
Use the table below as a guide to offered places in previous years.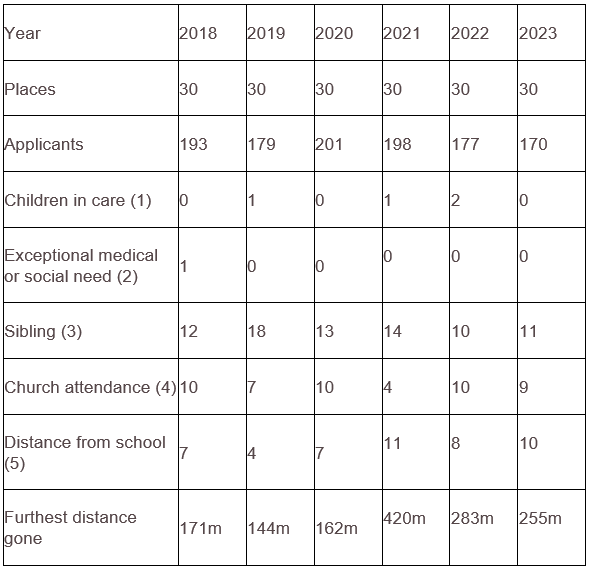 Please note that we often go further than the distances stated as sometimes offered places are not taken up e.g. a family moves out of the area in the summer holidays. It is very common for places to available in September/October. If you wish to go onto our waiting list, you should contact Lewisham and complete an In-Year form - Transferring your child to a different school during the school year for more information.
Reception Admissions for September 2024
Please view or download our Admissions Policy 2024 at the foot of the page. Note that parents and carers only need to complete a Supplementary Information Form if they are applying for a church place (criterion 4).